There are several reasons why you might want to stay off the grid. Maybe you've been doxxed, and now your personal information is out for everyone to see. Maybe you're new job involves leaving no traces of your online behavior behind. Maybe you're just afraid of a security breach and would rather not risk anything whilst still being able to access the internet. Whatever it may be, it's very hard to completely remove your information from the internet. But there are ways to minimize your online footprint, at least, and here are 7 places to begin.
1. Deactivate all your online accounts
Source: Make Use Of
This involves deleting all your social media accounts, web service accounts, and especially online shopping accounts. Think of literally every online account you have. There's Facebook, Twitter, YouTube, Instagram, but don't forget the smaller ones like Tumblr, Google+, MySpace, and Reddit. It's also urgent that you delete your online shopping accounts like Amazon, Ebay, etc, since they actually contain your personal address and credit information.
2. Remove yourself from data collection sites
These are one of the harder steps you need to do. Data Broker Websites such as Spokeo, Whitepages.com, PeopleFinder, etc. collect your information without your knowledge and sell them to third parties, mostly to help advertise specific products to you. This is difficult, though, as the steps vary from each site, and sometimes involve physical paperwork. Luckily, there are websites such as DeleteMe from Albine.com that will do all the work for you, albeit for an annual fee of $130.
3. Remove your information directly from websites
Perhaps the most tedious step of all is removing all your information individually from each website there is. This can involve phone companies or cellphone providers, forum posts or blogs, etc. Most of the time, you would have to contact the administrator or the company handling these websites to take it down for you. However, they are in no obligation to do this for you, so be respectful when requesting for it. If that fails, go to step 4.
4. Delete all your personal information from websites
If there is more sensitive information leaked on these websites, such as Social Security numbers or bank accounts, and the webmaster refuses to delete it, you can file a legal request from the websites host provider or company to have it removed. An example would be from Google: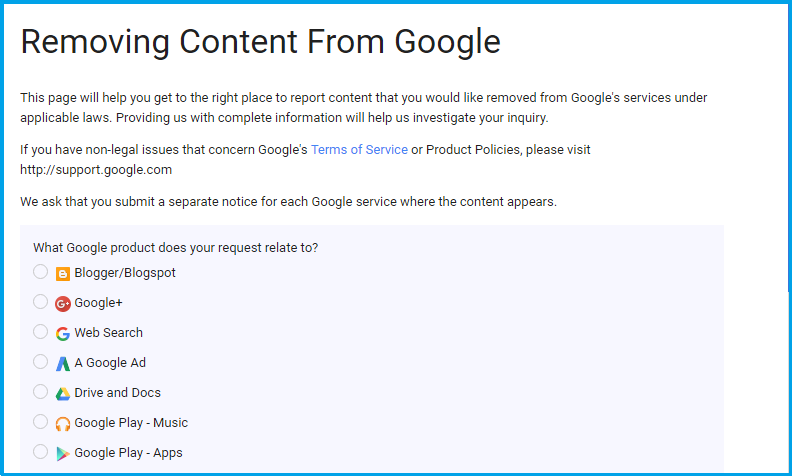 Source: Stuffonix
5. Remove outdated search results
Source: MalwareTips
There are times where you do ask the webmaster to delete your information and they do, but when you Google it, it still shows up on the web results, even if when you click the link, your name is nowhere to be found. That means that the an old version of the page is still on Google's servers.
This is where you can submit a URL to ask Google to delete the cached search result to remove all your associations with the page. Bing also does this. While there's no guarantee they'll do it, it's worth a shot.
6. Delete all your email accounts
This is pretty self-explanatory, but depending on which email services you have, it'll vary. Make sure you do this last though, as all the previous steps will require an email address.
7. Use a VPN
Source: TechDissected
This is more of a preventive measure, but it's important nonetheless. A VPN will create a secure and encrypted connection to the internet, leaving you with virtually no marks and making it difficult to breach. Use it whenever you'll be browsing the internet until you're ready to get back on grid again.
Source: