2016 has been another year that has been full of awesome innovations, crazy inventions, as well as badass new gadgets. We can definitely say that 2016 has been innovatively fruitful. And so, we can expect that 2017 will be more fruitful in this field as well
We present to you the top 5 gadgets you should watch out for in 2017.
popSLATE 2
Source: droidheroes
popSLATE  2 is basically a smart second screen for iPhone. It's an e-ink display that is placed on the backside of an iPhone, and is always turned on. It displays the contents you use more frequently on your phone. It isn't bulky since its size is only 0.16" and it charges along when you're charging your iPhone. This device will help you save on battery since it uses minimal power.
EcoQube Air
Source: Treehugger
EcoQube Air is the world's first desktop greenhouse. Once installed, it provides clean air, and allows you to grow plants or food easily, and "improve your quality of life". You are able to monitor your plants growth by using its companion smartphone app.
If you're a beginner at indoor gardening, this could be the best gadget to learn from, since it's the gadget that provides the best environment for your plants to grow. You can grow food and different plants in any environment and in any season. It doesn't even need direct sunlight as it has full-spectrum LED lights that can provide the needed light for the plant.
ModoBag
Source: Digital Trends
Modobag is the world's first motorized, and smart carry-on bag. If you love to travel but hate dragging round your carry-on luggage, this is the bet bag for you! The bag has a built-in motor, steering handles, paddles and a soft seating system so that you can ride on the bag if you don't feel like walking!
It also has two 5v, 3.1A USB charging ports so you can recharge your smartphones and other devices. It includes a digital display that shows the charging status of your devices. It has a maximum speed of 8mph, and only weighs 19 lbs. It has been approved by the TSA and the FAA so it can pass through airport security and passes the luggage weight limits.
Perfect Memory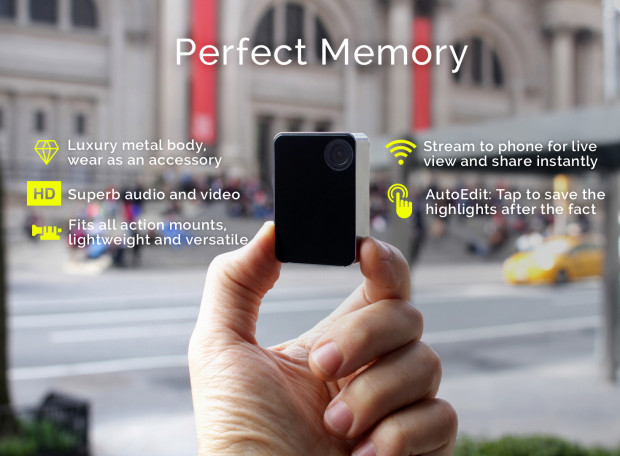 Source: Indiegogo
This is my favorite among the list. Isn't it irritating when at an event, everything happens so fast that you aren't fast enough to bring out your camera and capture that one moment you wish you could have caught on camera? Well the perfect memory camera has solved this problem!
You can consider the perfect memory camera as the only "time travel" camera that lets you save a video AFTER a certain event happens. But how? Basically, the camera is turned on the whole time on standby, and whenever something awesome happens, all you have to do is click the camera and it records what happens in the last 5 minutes.
Since it's a small camera, you can wear it as a necklace, or hang it on your belt. It has awesome video quality and can save up to 128GB and also has a microSD slot. With this camera you won't need to edit hours of videos!
LiveStream Movi(Mevo)
Source: Slash gear
Turn your creativity on as Livestream Movi is a 4K camera that lets you mix and edit the scene while you're capturing the video live! This offers live conversation of the virtual cameras for live capturing of real time editing. This is great for those video editors on the go as they can edit on the spot and won't have to rush editing everything after and miss any deadlines.
It also features a f2.8 lens which gives a wide 150 degree diagonal view. It also can work in tandem with an iOS app that gives an impression that the videographers are capturing the videos using multiple camera angles, but actually, are only using a single device.
Article Source:
amjobzglobal