One of the most essential components of products and systems for HVAC is the duct. This makes up the circulatory system of most HVAC equipment, which primary functions are to channel conditioned air to vents, to take return air back into the system, and to transport exhaust air and waste heat outside of the house. Ducts work no matter the season – during winter, they carry warmth; in the summer, they hold cool air. As to the rest of the year, they provide ventilation for better indoor air quality.
Such product for HVAC has evolved through time. Most facilities built a long time ago use noninsulated ducts, meaning they are not lined with a material that should prevent or reduce the passage or transfer of heat or electricity. Because insulation technology for ducts isn't available just yet.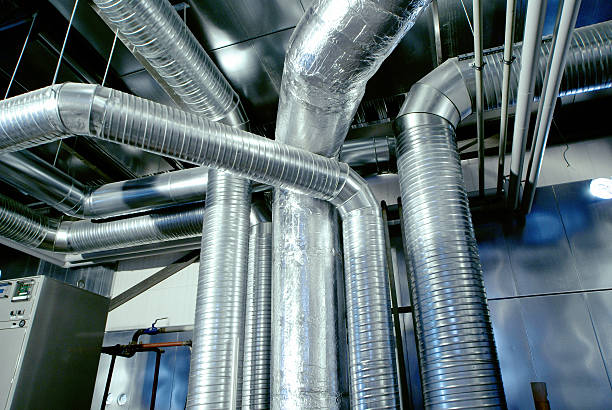 Source: iStock
While there are facilities which use non-insulated ducts today –because insulation is not a universal HVAC requirement in ducts anyway – majority of the building owners now opt to use the flexible insulated ones for their advantages. It is now the recommended ducting solution by HVAC engineers especially for offshoots in forced-air systems, with the rigid ones suggested for the main trunk ductwork.
Typically made of flexible plastic over a metal wire coil to shape a tube, flexible insulated ducts are thermally insulated, fully lined air ducts designed for use in HVAC distribution systems. They are different from uninsulated ducts because of, well, the insulation.
Materials for insulation of these ducts vary. In the United States, it is usually glass wool; in Australia, it can be polyester fiber and glass wool for thermal insulation.
There is another layer, the outermost one, on top of the insulation. This is a protective layer usually composed of polyethylene or metalized PET in recent ducts, or plastics and metal films in the older ones.
Rubber World Industries' Gulf.O.Flex
In the case of Rubber World Industries (RWI), which is an HVAC industry leader in the Gulf Cooperating Council (GCC) countries, it offers flexible insulated ducts under its flagship brand Gulf.O.Flex with a rather unique insulation system.
Such products have thermal efficiencies provided by wrapping the exterior with a blanket of fiberglass insulation. The company designed the ducts to have a strong outer insulation jacket or vapor barrier which is made of fiberglass reinforced metalized polyester film laminated.
The company, which has been operating since 1993, developed Gulf.O.Flex as a one-of-its kind product embedded with unique characteristics which are also required to achieve energy efficiency.
Customers can choose between Gulf.O.Flex uninsulated ducts and flexible insulated ducts, whichever the needs are for the facility.
The uninsulated duct is made of triple lamination of aluminum foil, polyester and metalized polyester film permanently bonded to a coated spring steel wire helix. The flexible insulated duct is essentially the same but with the exterior fiberglass insulation wrap.
Both products of RWI, among others, are globally recognized by the ASTM (American Standard of Testing Materials), BSI (British Standard Institute), and ISO 9001:2015. They also conform with all major international standards for the insulation industry, as well as factory-tested by RWI for sore hardness.
Gulf.O.Flex has proven itself as one of the industry's best, if not the best, in terms of rubber insulation products not only in the GCC countries but also in the Southeast Asian region.
Today, RWI supplies 56% of the region's requirements for rubber insulation products, reaching to the HVAC needs of 90 countries globally.