The GHOST marine platform looks like every action movie aficionado's dream. It seems like an attack helicopter merged into a stealth jet fighter, except that it is a watercraft instead of an aircraft. Not only that, it also looks like a serious badass tank that means business. Possibly, that was the effect that Juliet Marine Systems was aiming for when it developed this super cavitating watercraft.
Source: Union Leader
This boat has been developed for the United States Navy to use, possibly. The features are certainly something out of a James Bond movie. It is meant to be invisible to radars of enemy ships. At the same time, it is faster than the military watercraft currently in use, it is more economical as well. However, the most important feature claimed by the Juliet Marine Systems for the GHOST is that it is a super cavitating watercraft.
Source: Daily Mail
Super-cavitation is simply the use of cavitation effects to surround any object in water with a gas bubble so that the object travels through the water with the bare minimum of friction. By reducing the drag friction, the object can reach much higher speeds. In GHOST, two tubular foils have been added which are buoyant and lie submerged in water. These are the objects which are super-cavitated allowing the GHOST to travel faster. JMS has yet to reveal the details of this technology.
Source: FreePublic
This watercraft is capable of carrying a sizeable payload in its internal weapons bay if required, including the famous Mark 48 torpedoes. Multiple weapons systems can be incorporated into the GHOST enabling it to attack multiple targets at the same time. Its stealth can allow it to creep up on enemy beaches to transport troops or supplies. So what we have here is a watercraft that is so silent and deadly that calling it a boat would be a grave injustice. Of course, it already has the ridiculously cool name of GHOST.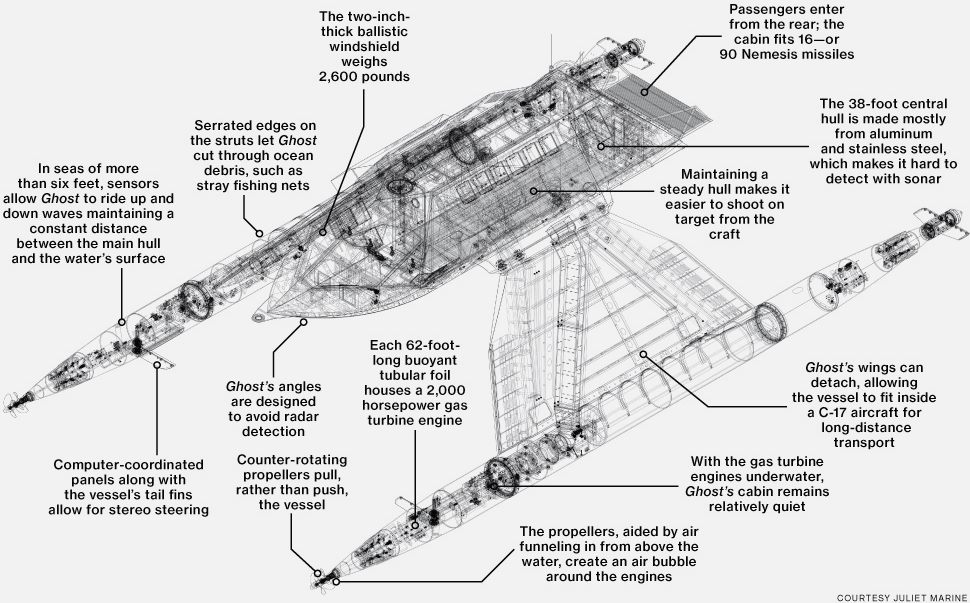 Source: Bluebird Electric
Source: Giphy