In the South of Market district in downtown San Francisco, USA, stands the Millennium Tower. It is a high-rise luxury residential complex that stands at 645 ft and is considered as the fourth-tallest skyscraper in the city. It contains over 400 multimillion-dollar condo units.
Unfortunately, the massive skyscraper is rapidly sinking, and the engineers are still working on finding the solution to solve the problem. Since the skyscraper has been finished, the structure has sunk 17 inches and tilted 14 inches toward the street.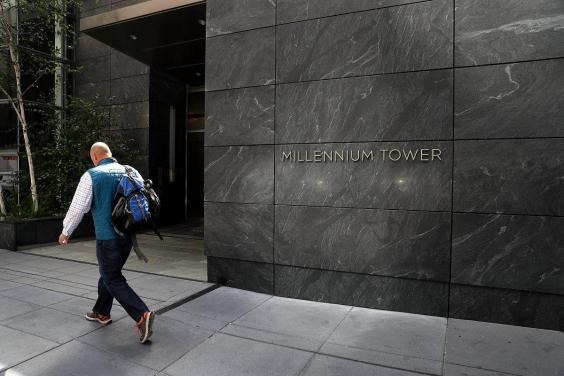 Source: Independent
The building was completed in 2008, and has featured luxury amenities like a wine cellar and tasting room, top restaurants, a movie theater, as well as a state-of-the-art fitness center. According to the San Francisco Chronicle in 2007, during the opening of the Millennium Tower, it has sold $100 million worth of condos in just five weeks. The units prices ranged from $1.6 million to over $10 million. The grand penthouse of the building was sold for $9.4 million. Unfortunately, the average multimillion-dollar condo has now lost its value by an average of $320,000 per unit.
Millennium Partners, the company who developed the skyscraper, blames the nearby construction which is the Transbay Transit Center, a transportation hub with broke ground in 2010. A terminal that was developed by Transbay Joint Powers Authority included a 60-foot hole for the train tunnel. According to the Millennium Partners' engineers, the main issue was that the new terminal removed too much groundwater while building the tunnel.
Source: Reuters
Transbay Joint Powers Authority on the other hand, released a statement saying that their company isn't to blame. The transportation company blames the Millennium Tower's use of concrete for construction instead of steel which is the reason for the base shifting. The company also said the faulty foundation started moving shortly after it opened in 2008.
According to Transbay, "The net pressure of the Millennium Tower loads the Old Bay Clay stratum that lies 90 feet below ground level below the tips of the piles used to support the 10-foot thick mat foundation of the Tower,"
"These pressures are much larger than those caused by any adjacent buildings and likely caused the Old Bay Clay to enter a highly sensitive under consolidated state. This load has contributed to the excessive settlement at the Millennium Tower prior to the start of any underground construction of the Transit Center and has reduced the capability of the Tower to withstand any reduction in water table, regardless of the cause of that reduction in water table."
To be able to repair the foundation, engineering firms in the area has estimated that the cost would be around $100 million to $150 million.
Article Source: