Good news for environmentalists and vehicle enthusiasts: The world's first hydrogen-powered passenger train has just completed its first test run, and it's performing quite well.
The train, named the "Cordia iLint", created by Alstom, had completed the test run on a test track specifically designed for it in Salzgitter, Germany, and reached speeds of up to 80 kilometers per hour.
Source: Youtube, Wired UK
This test run is a part of a four week train run which aims to test the efficiency of the train's energy supply and electric braking systems. They first had to check its electrical and pneumatic functions were functioning before being allowed to proceed. Alstom ultimately plans to run that train at its maximum speed at 140 kilometers per hour at some point in time during the testing stage.
Didier Pfleger, VP of Alstom Germany and Austria had stated that "This test run is a significant milestone in environmental protection and technical innovation. Today our new traction system, so far successfully proved on the test ring, is used on a train for the first time – a major step towards cleaner mobility in Europe"
The Coradia iLint was first unveiled in 2016, and it is the first low-floor passenger train fueled entirely by a hydrogen fuel cell which generates electricity.
Source: Inhabitat
To power it, Alstom had to build its own hydrogen refilling station along the tracks, in which the hydrogen gas is pumped into the pressurized fuel tank within the train. "The hydrogen used for the test runs is the by-product of an industrial process, which is reasonably reused as a waste product," said Alstom in a statement.
Hydrogen fuel cells are able to generate electricity by combining hydrogen with oxygen atoms to move a motor and produce electrical current. This technology isn't new, as hydrogen cars like the Toyota Mirai have existed for a few years now, but they have failed to become mainstream.
Using hydrogen fuel method is actually 2-3 times more efficient than the traditional combustion engine that uses petrol, says the US Energy Information Administration. It also does not produce any air-polluting by product, as hydrogen powered vehicles only produce steam and condensed water on their exhaust.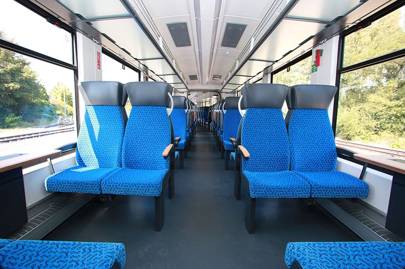 Source: Wired UK
While the train is still undergoing its initial tests on the tracks, it has yet to have a test with actual passengers in them. However, Alstom says the first passenger tests are already planned for the Buxtehude–Bremervörde–Bremerhaven–Cuxhaven route in Germany in 2018. They also considered the possibility of the trained being used in the UK in 2021 once the tests in Germany have proven to be a success, though there aren't any plans for it yet.
Article Sources: